Somos una empresa bilingüe (inglés y español) de servicios múltiples a nivel personal y de negocio, DAPA Multiservices Advisors presta servicios en el Greater Washington Area. Brindamos un servicio excepcional a nuestros clientes a través de nuestros tres principios fundamentales: 
1. Quality 
2. Efficiency
3. Security
¡Póngase en contacto con nosotros hoy!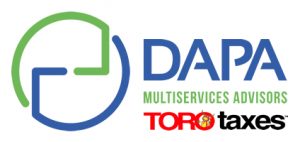 101 Washington Blvd,
Laurel/MD 20707
10:00 AM – 20:00 PM
Monday – Sunday
Phone: +1 301-377-0656
Email: Dapaadvisors@gmail.com
Our priority is to provide exceptional service to our customers.
We will be happy to offer our experience and service to whatever your situation may be.